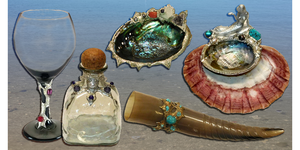 Take a journey into the depths of Waterhawk Creations exclusive creativity with natures treasures. Blending fine pewter with gems of the Earth and Sea, we bring you magical and whimsical functional art. From wine glasses and champagne flutes with a distinctive flavor to enchanted shell jewelry bowls and agate display tables. Drinking horns of a regal nature and repurposed bottles adorned with jewels to ostrich egg and shell chalices never before encountered. All one of a kind works of art! Daniella and Don Waterhawk create an interfusion of mixed media and bring to you an extraordinary and enjoyable, functional art that may be favored for generations to come. Brightens special occasions or everyday with elegance and charm.
Unique Art Gallery, Shell bowls, Bottles and Blades
Damascus Blades, Enchanted Collection and Drinking Horns
~Tanith R
Thank you so very much Don WaterHawk and Daniella Waterhawk for making this very special piece for me and getting it shipped so perfectly safe. I am a critic over shipping tech, and you took extra good care to get this very special shell to me in one piece. The details are so perfect and can feel all the love put into its creation. This is an item I will be passing down to my son or grandchild some day with hopes they will honor it as much as I do. I am so in love with this one!!!
~Elizabeth C.
I don't know when the tradition started... or rather which renaissance fair started our tradition. We bought some wine goblets for my brother-in-law and his wife to be. They were such a hit, we decided that every couple (from there forward would receive two of these beautifully created wine goblets as their wedding gift. We are so in love with the creativity of Waterhawk Creations, that even though we now live in Seattle, we still buy their beautiful glasses and send them to our family and friends. I love their products and will continue to follow them to see what new creations they come up with!
~Veronica C.
I have been an admirer of Waterhawk Creations for many years, and have several pieces in my collection. I can tell you, no one comes close in terms of artistry, beauty, and quality. Each piece is truly a work of art. I just received a second athame from Waterhawk, and it is GORGEOUS. The crystals, stones, and pearls he used to create the piece are very high quality, and his attention to detail is impeccable. And most importantly, I love the energy that each one of his pieces holds. This last piece I received was a custom order, and it is truly filled with the powerful, water energy that I was hoping for. I am a fan (and a customer) for life.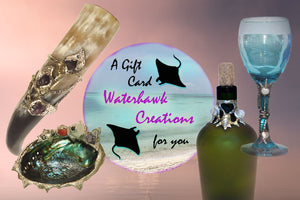 Gifts cards
Can't think of a gift for someone. A gift card from Waterhawk Creations is perfect for that someone who has everything or just loves our whimsical and magical designs. Being our work is one of a kind, you know there'd be no one else giving a gift like ours.
Gift Cards Available Here
Custom Unique Earth Essence Designs for all occasions
Are you looking for something exclusive and distinctive, for a gift or for yourself, Waterhawk Creations caters to the mystical and whimsical heart. Each piece we create is a one of a kind and if there is something that you like but are looking for different stones or design, different colors or style, we may be able to assist with our custom work. Have you visited our Tribute to the Past page? There you will see some of our prior work and you may see something there not available at present. We may be able to create something along the same lines if materials are available. All of our work is based on availability of materials. Contact us and we can discuss options for custom work made especially for you.